Frequently Asked Questions
Where did New Trails come from?
New Trails Ministry came out of a desire to offer support to men and women in ministry and other helping professions. As a pastor, volunteer firefighter and most recently a therapist, I know firsthand the challenges and stresses you encounter day to day. While there are many resources that do an excellent job of supporting you in this journey, New Trails is born of the conviction that there is something unique about providing this support in a remote location that brings healing and encouragement. We invite you into the outdoors, to discover a new trail in your life of discipleship.
Who will lead our time at New Trails?
Your leadership team consists of Rod and Deb Veldhuizen. A couple who have shared life together for over 40 years and have been in full time ministry for over 36 of those years. Rod is an ordained pastor, and a licensed therapist. Additionally, love of the outdoors fuels our passion to get outside and listen to God as we enjoy the nature he has given us.
How much does a stay at New Trails cost?
New Trails strives to make our services affordable.  Statistically pastors rank in the top 10% of the population in terms of education, but they are only 325th of 432 occupations in terms of salaries received. As a result we have set a week long stay (Sunday evening through Friday) at $500, and a two week stay at $1,000.
Backpacking trips have a slightly different pricing depending on the number of days and the size of the group. We can outfit and lead a 3 day 2-night backpack trek within the Black Hills at a cost of $250 for 1-person, $425 for 2-people, and $200 for each additional person after that. A second option for a longer backpack experience in the Black Hills is a 4-day, 3-Night trek at the cost of $340 for one person, $525 for two and $275 for each additional person. A 3-day, 2-night trek to the Big Horn Mountains in Wyoming begins at $350 per person. (A minimum two people are required for this trip. If you want to make a trek to the Big Horn Mountains, you will need to plan on 5 days total to allow for travel to and from the area.)
One reality we know as a pastoral couple is that money, at times, can be very limited. We don't want our fees to be the final consideration, because we have options to assist in providing this ministry to you. We will be glad to assist you, all you need to do is contact us.
What does the Cost include?
New Trails offers you a modern log cabin, with a fully equipped kitchen, living room with a hide-a-bed, bedroom with a Queen bed, bathroom with a shower and a loft. Your time with us also includes at least two hours a day of coaching and support from Rod and we also provide at least one meal a day. We are inviting you to get away and reflect on your life and ministry, and also allow generous time to pursue your own interests.
What about short term stays? Or are there options to the regular schedule?
While we are generally focused on providing Wilderness Sabbaticals and coaching, there will be times when the Cabin would be available for short term stays.  If you would like to stay at the Cabin for a shorter time, we have set the nightly rate at $80.00.
Can I get a refund if I decide not to attend?
We do offer a refund if you cancel within two weeks of your arrival.
What activities are available for me to enjoy?
New Trails is conveniently located in the Southern Black Hills of South Dakota. Sites include the Crazy Horse Memorial Carving, Mount Rushmore Monument, Custer State Park, Jewel Cave National Park, Wind Cave National Park, the Mickelson Bike Trail is nearby, to name a few of the major attractions. There are also miles of hiking, and thousands or acres of wilderness to explore.
What is the schedule at New Trails?
Generally we operate on a Sunday evening through Friday, with a Saturday morning departure. You should plan to arrive before supper time as we will greet you with a home cooked meal. (Be assured we can accommodate any food allergies you may have) We will create a schedule tailored to your needs and abilities.
New Trails specializes in what we call "Wilderness Sabbaticals", however knowing everyone has a different level of comfort with the wilderness, your time is tailored for you individually.
We also schedule time for you to explore the Custer area a little more extensively as you like. Due to the outdoor nature of the work we will be doing, there will be a variable plan for the day due to the weather. As a general rule we will spend time each morning hiking and reflecting, as well as sharing a meal along the way. The afternoons and evenings are generally set aside for your reflection and leisure.
What do I need to Bring?
Casual clothing, particularly clothing that allows for movement as we will be physically active each day. I would suggest light clothing, hiking shorts, or hiking pants (no blue jeans for hiking). A good pair of walking shoes or hiking boots. A warm jacket as the mornings and evenings are cool in the Hills.
The cabin has a fully furnished kitchen and we provide sheets for the Queen and hide-a-bed. You will need to bring your own towels and wash clothes (although if you are flying in we can assist you). You will need to think about meals. We will provide at least one meal a day and we will plan that with you ahead of your arrival. Either road you take to New Trails will take you past either Custer or Hill City, both with a well stocked grocery store so you can purchase the supplies you will need for your stay.
You will also need your Bible, notebook and pen, a good book you have been thinking about reading but haven't had the time for, your willingness and desire to listen to God while experiencing the wilderness.
What should I not bring?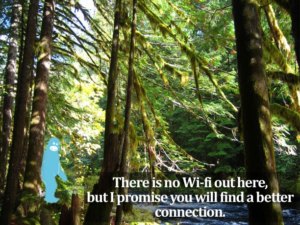 During you stay at New Trails you will find we are "technology" challenged.
Cell phone reception is spotty, there is no Wi-Fi, no television. This "meme" says it best:
What is the set up of the training?
New Trails offers you the opportunity to go from stressed and depressed to a new trail of vitality. Your wilderness RX filled here.
What that means is this: We will walk, we will talk, we will sit with our Bibles and journals and listen to God. This is a time of guided meditation and reflection on the challenges, stresses and losses that are preventing you from finding new vitality. As a long term pastor and counselor, Rod will work with you to help discover the pain and losses that accumulate. We will break bread together and listen to what God has to say to us. At New Trails we believe the wilderness is the tool God has often used to bring renewal to his people (Moses, the Israelites, and Elijah to name a few). We can also see the example in Jesus himself following his baptism when he retreated to the wilderness where he affirmed the direction his Father had called him to. While the wilderness can be a daunting environment, with an experienced guide, we are confident the wilderness is a place where you can learn the skills to go from stressed and depressed to a new vitality.
We also want you to know that even when your time at New Trails is completed you are not abandoned. Rod will offer to schedule follow up phone, text or internet coaching appointments with you, so the lessons learned in the wilderness will not be soon forgotten. While following the wilderness prescription, going from stressed and depressed to new vitality, remember God's original: "Be still, and know that I am God; I will be exalted among the nations, I will be exalted in the earth." (Psalm 46:10)
How do I get to New Trails?
By car, truck or SUV, take a look at the Map we have sent you or the one on the website. You can look at Google Earth and if all else fails try your phone mapping app. However, before trusting that onboard GPS system, it needs to be updated. Google Earth only recently found us by address.
If you are traveling by air, there are a couple of options. The first is to fly into Rapid City, South Dakota. You can rent a car at the airport and then follow the directions. Or you can fly into Denver, Colorado, a longer drive but might be more affordable than Rapid City.
However you travel, keep in mind that the first time you drive out to us, it feels like we are a long way off the road, and we are, but it is easy to find. At the end of the trip you will find a place and help ready to take you on a path from stressed and depressed to finding new vitality.  Where your wilderness RX is filled.
What other opportunities and services are offered through New Trails?
While our primary focus is on helping clergy, caregivers and first responders to find a new trail of vitality, we are also able to provide support and services to others.
Prayer Retreats.  If you are looking for a place for some solitude and quiet reflection, a place to be still and listen to that still small voice you cannot hear in the day to day hustle of life, New Trails could be the place for you.  Because of our rural location we have literally thousands of acres of forest and wilderness for you to find a place to be alone.  No phone or traffic to disturb you, just a place to be still and reflect on what God has for you.  This retreat would be primarily located on our property, however, if you would like to be a bit more removed from the normal events of life, we can help you find a place of solitude in the wilderness for an overnight solo experience.
Group Back Packing Trips. At New Trails we have an assortment of backpacks and camping equipment to assist in leading a backpack trip for you and some close friends, a church Youth Group, or whatever small group you would like to take on a wilderness sabbatical adventure. Due to back country restrictions, we limit the group size to no more than 10 participants. We can provide an introductory three-day trek for beginners who have never backpacked before to an intermediate level 4 days, 3 nights' supported adventure. Our primary area is the Black Hills of South Dakota; we can also develop a trip to the Big Horn Mountains in Wyoming (at additional cost and additional days for travel).
Rod is also available for church consultations and evaluations. As an experienced Pastor and therapist, he is available to work with your church on a variety of topics from conflict resolution to tailoring a planning process suited to your congregation.